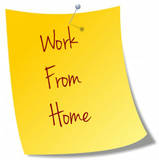 Scribie.com offers a great way to work at home with their freelance transcription program.  You do not need to have previous experience in transcription. But you will need to have fairly good typing skills and be able to pass the typing test.
You are paid  $10 per audio hour for the files you transcribe and/or review.  Audio hour means that you are paid for the amount of audio you transcribe and not for the actual time spent working on it. All files are 6 minutes long or shorter so on average it should take you about 18 minutes or so to transcribe one file. You can choose as many files as you wish to transcribe each day, just remember you can only have one pending assignment at a time.
Another perk of working for Scribie is that as you become more familiar with the transcription process, the quality of work will improve. and you will have the opportunity to be promoted to a reviewer. This means you can self-review your own files, your pay rate will effectively double and you will be earning $20 per audio hour.
You are paid as soon as your submission is reviewed, and you can withdraw your earnings from your Scribie account to your PayPal account at anytime. There is no minimum withdrawal limit and the funds will be sent to your PayPal account in 1 business day.
Office equipment you will need for this job are things you probably already have at home- your own computer, internet connection and a  good quality headset. Also you must use either the Firefox, Chrome or Safari web browser and have the latest version of Adobe Flash Player for your web browser.
If you are interested in learning more about work at home jobs with Scribie, visit their website and make sure to read their FAQ section  to get all the details.