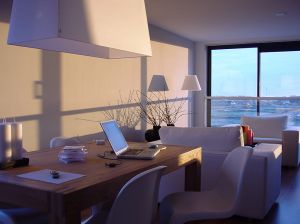 U-Haul is hiring work from home E-Hotline Agents. These are home-based call center jobs with hourly pay and benefits.
What Is An E-Hotline Agent – What Do They Do?
Working from home, E-Hotline agents answer inbound calls from U-Haul customers needing emergency roadside assistance. Agents identify the problem the customer is having, and will dispatch repair services to help the customer.
How Much Do U-Haul Work From Home Jobs Pay?
Customer service agents with U-Haul generally earn the minimum wage – about $7,50 – $8.50/hr. However, with bonuses added – many agents working from home will earn an average of $12-$14 per hour.
Are These Really Work At Home Jobs With Benefits?
You must be a permanent employee with U-Haul in order to be eligible to receive benefits. Some of the work at home jobs with U-Haul are for temporary seasonal positions which will not provide any benefits.
The details for E-Hotline Agents indicate these are 'moon-lighter/part time jobs.' While it appears they do not fall into the temporary seasonal job category, it is very important that you determine the status of your employment before accepting a job offer with U-Haul.
Part-time permanent employees working at home will receive benefits that include dental plan, limited medical plan, 401k, stock-purchase plan, company discounts and credit union. Full-time employees receive additional benefits such as paid time off and a full medical plan.
What Are The Requirements Needed To Apply For These Jobs?
If you are considering applying – keep in mind that call center agents work weekends and holidays  so you must be willing to work those shifts.
Applicants must be able to type 25 wpm, have efficient problem-solving skills, and be mechanically inclined with a general knowledge of mechanical and automotive skills.
What Are The Technical Requirements For This Job?
Aside from a quiet dedicated office space, you will need your own USB headset and computer that meets the following requirements:
Windows XP, Vista 32-bit or 64-bit, Windows 7 32-bit or 64-bit operating system
5gb hard disc space available (or greater)
Pentium 4 or higher processor
Network card
1G RAM (minimum) 2G (recommended)
Anti-virus software.

You will also need to test your computer's speed using their online speed test.