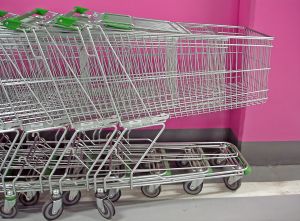 Receipt Hog is an easy money-making app that you download for free to your Apple or Android device. All you have to do to start earning is take a picture of your next grocery receipt. Receipt Hog pays you real cash via PayPal which makes this a really nice app to have on your phone!
How Does Receipt Hog Work?
Receipt Hog is a free app for iPhones and Android based smartphones. The app comes from a marketing firm that gathers data to create research reports that influence brands and retailers.  According to the company, all data is anonymous for reporting purposes.
Every time you submit a grocery-related receipt, you earn coins. These coins are redeemable for cash via PayPal or gift cards. Plus, there are other ways you can earn coins using Receipt Hog as well, like taking short surveys and spins at the Hog Slots.
Are There Only Certain Stores That Work – Or Can I Shop Anywhere And Earn Coins For My Receipts?
Receipts from any grocery store, dollar store, club store, convenience store, beauty supply or even a pet supply store count. The easy way to remember which receipts qualify for coins is if the store in question sells products you might also find at a grocery store or super-center.  Even if you are not sure, just take a picture of the receipt and they will let you know if it is acceptable or not. You may submit up to 20 receipts per week to earn coins, but every receipt must be for shopping trips you were a part of.)
How Many Coins Is A Grocery Receipt Worth?
Generally, a receipt's coin value is based on the total amount spent according to the scale below:
  * less than $10 = 5 coins
  * $10 to $50 = 10 coins
  * $50 to $100 = 15 coins
  * more than $100 = 20 coins
Once you've reached 1000 coins, you'll be eligible for a $5 PayPal cash redemption or an Amazon gift card.  The more coins you earn, the higher the payout, so it pays to save!   Once you're eligible for your first payout, all you have to do is click on the option you want and follow the guided instructions. You can download Receipt Hog to your Android or Apple Device for free if you would like to try it out!