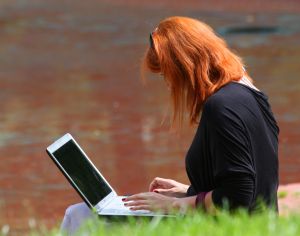 If you have books, children's clothing, CDs, DVDs, video games Blu-rays, and other miscellaneous items around your home just collecting dust, why not try your hand at selling online? There are so many places where you can list things to sell and make money today, that it makes it sense to give it a try (especially if you are looking for ways to get some quick money!)
3 Places Where You Can Sell Your Stuff Online (Besides eBay) And Make Some Money Today (Or Quickly)
Poshmark – You use an app that you download to your phone to sell clothing, shoes and fashion accessories at Poshmark. For all sales under $15, Poshmark takes a flat commission of $2.95. For sales of $15 or more, Poshmark's commission is 20%. All sales are handled online via Poshmark. When a buyer has purchased an item from you, Poshmark automatically emails you a pre-paid, pre-addressed USPS Priority Mail shipping label. You print out the label and ship your item.
Decluttr – Is an online platform where you can sell CDs, DVDs, Video Games and Blu-Rays. Sign up and start selling by entering the barcodes of items you want to sell and find out instantly how much they will pay you for each item. Once you have confirmed your order, pack your items into a box and ship them for free using a pre-paid shipping label. Deluttr pays you by check or direct deposit to your account on the first business day after receiving your items.
thredUp – This is a site for selling gently used, good condition clothing. To get started as a seller, you just need to sign up and request a Clean Out Kit. Once you receive it, fill up the bag with the clothes you no longer want. Return the package for free to thredUP. They will appraise the items, and issue you a payout after they process the clothes. Keep in mind that some clothes may not be accepted. And clothing that appraises above $60 will be sold on consignment, and you will be paid after those items sell.