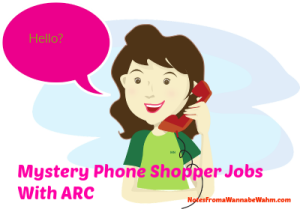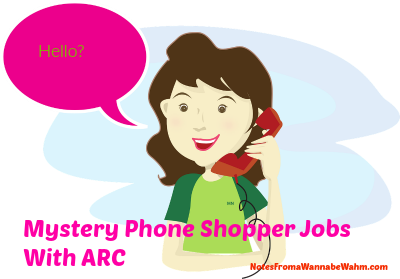 If the thought of doing phone work from home sounds intriguing, but you are worried about your kids making noise in the background, think about getting a job as a mystery phone shopper.  Since you will be calling stores and acting as an interested customer, it is fine to have normal household noises going on in the background!
Like mystery shopping, you will be checking out shops and writing reports, except that all work is done by phone. You will not be required to actually visit any stores in person.
There are several companies that hire mystery phone shoppers, one of which is ARC Consulting. You can visit their website to register as a potential phone shopper, or email them for more information. They indicate that they are always looking for people to add to their mystery phone shopping list, however there really is no guarantee if they are currently hiring. The best thing to do if you are interested is probably email them.
They also have an online application/registration form you can fill out. They will ask for your SS number however. If you are uncomfortable with that, I suggest you send an email to the address they provide here.
As far as pay goes, mystery shoppers are paid per call. Depending on the length of the call and details of the call, shoppers earn $3.50 to $12 per call. Payments are made monthly by direct deposit.
Money Making Mommie also has a nice review posted if you would like to read more about mystery phone shopper jobs with ARC.