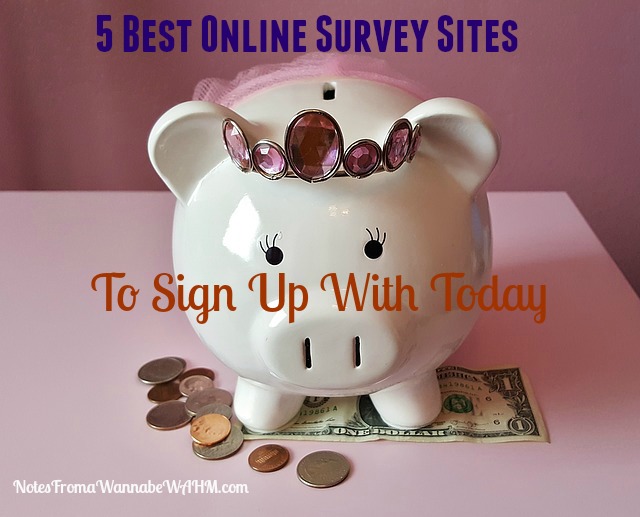 So I am giving my thoughts on the best online survey sites. For me, I love love love sites that pay you with real hard cold cash when you complete surveys. Because, after all, sometimes getting just a dollar or two into your account is all it takes to make your day. Plus, this first step may motivate you to make more money online (smile).
(P.S. The links in this post below are not making me any money, just so you know. If I do ever do post an affiliate link here, I will always let you know, promise.)
1. IPSOS i-Say : If you research best online survey sites, Ipsos is one  site that comes up often This company has a great reputation for paying you on time just as promised. Once you sign up, you will need to click a confirmation link they send to your email to confirm your account. Members get invitations via email for paid surveys.
Even if you do not qualify for a survey, Ipsos  still rewards you anyway with 5 points. Nice.
[Ipsos also has a mobile app for surveys that you can use when you are out and about and find yourself with spare time (like sitting in the DMV.)]
Once you have at least 500 points, you can redeem them at any time. You can use your points to get gift cards from stores like Amazon or Target, cash via Paypal and Visa prepaid cards.
Haven't signed up yet? Why not give Ipsos a try now?
2. Toluna:  The nice thing about signing up with Toluna is that you can sometimes get real products to keep and review. And, of course, you get paid for reviewing products! Sweet. You also earn rewards such as gift cards, cash and other prizes when you take surveys. It takes minutes to sign up and get started, so take a look and see what you think.
3. Global Test Market: I am including this paid survey site because they also have many positive reviews, as well as a good reputation.
I will say that the one drawback I have read about them is that members have sometimes waited up to 6 weeks to get their checks once they have cashed out. Hopefully this will improve.
On the other hand, they tend to send out more surveys daily than other sites. If you do not qualify to take a survey, I believe you are entered into a sweepstakes contest.
Global Test Market rewards members with points that can be converted into cash. You will need to earn 1000 points before you can cash out – which is equivalent to $50.
4. Opinion Outpost: If you prefer getting paid quickly through Paypal, and like low payout requirements, Opinion Outpost is a survey site you should definitely consider joining.Survey takers generally rank Opinion Outpost favorably mainly because they make it easy to get your money. Always a positive.
To get your payment, you only need 100 points. That amounts to a fast $10 in your Paypal account!
5. MintVine: This paid survey site offers cash reward payouts through Paypal. You can also opt for for a gift card from their list of participating stores, which includes Target, Starbucks, Walmart, Amazon and so on.
When your account reaches 1000 approved points ($10), you may redeem your points for cash via PayPal or Dwolla. Alternatively, you may request an electronic gift code to Amazon, Target, and other retailers. It takes about 48 hours to process your request.
This is also one of the few survey sites that gives you points (5) even when you do not qualify for a survey. Members can also receive 5 or more points for taking daily polls on their dashboards.
You may complete one poll every 24 hours to accumulate these extra points. Additionally, you may earn an extra 25 points for every 10 polls you complete during a Poll Streak opportunity.
MintVine also offers a referral program, so if you refer a friend, you earn extra money and points.
So there you have it –  my opinion for the best online survey sites out there right now. But please do not just take my opinion – always get more survey reviews and insights from Google.
SurveyPolice.com is a great resource to use to get more information on the best online survey sites out there today!