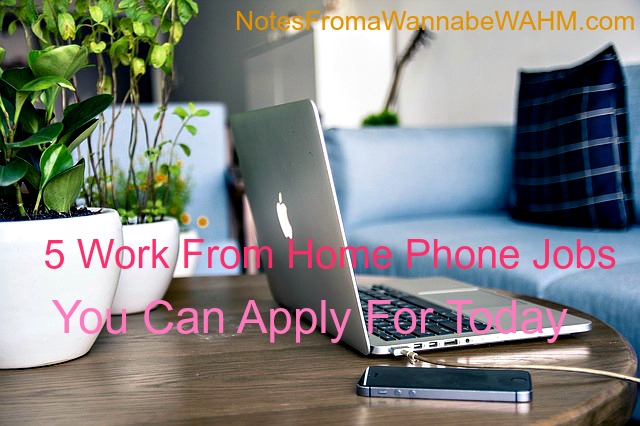 Not interested in freelance writing as a way to make money from home, but enjoy talking with others on the phone? Finding legitimate work at home phone jobs may be perfect for you! The companies listed below hire new phone agents on a continuing basis, and are almost always accepting applications.
5 Companies Offering Legitimate Work at Home Phone Jobs
This company has been hiring people for their work at home telephone interviewer jobs since 1997. They pay a set wage and provide fully paid training.
Requirements to apply here include a typing speed of 30 wpm, a corded headset with a noise cancelling microphone, and a computer with high speed Internet service.
Interviewers must have a phone line in their home office. If you want your phone line available for personal calls,  then you need to have a second (separate) phone line for work.
Only landlines are allowed for this job.
Intelichek is a market research company that has been around since 1997. They hire people to work from home as Telephone Mystery Shoppers. You do market research by gathering data via telephone. You will then input data into the company's data base.
Requirements for these jobs include having your own computer with internet access, as well as your own telephone with ability to receive unlimited incoming long distance calls.
They prefer applicants with a minimum of 6 months experience in telesales, call center, telemarketing, data entry, and/or administrative duties. (But I think you can still apply even if you do not have experience!)
You must also be able to work 10-30 hours weekly between the hours of 8 am-7 pm EST Eastern Time.
Pay for shoppers varies depending on each assignment. However, most telephone mystery shoppers with Intelichek are paid $9-$14/hour. Payments are made twice a week via Paypal.
CallCenterQA is a great place to start your search for work from home phone jobs if you have no call center or customer service experience.
You are paid $5 to complete a 5-10 minute mystery shopping phone call to a store. You also fill in a brief online feedback form (only 1 page long) after each call, which takes a few minutes to complete.
Working for Call CenterQA is a good for making extra cash as a side gig from home only though. The company sends you available jobs as they become available, so it is quite possible you may not get any opportunities for weeks at a time.
The good news is that they pay fast, usually within 7 days, for the calls you do make. Pay is via Paypal.
As with the other companies on this list, you must be at least 18 years or older and be a resident of the United States to apply.
I have written about VOIQ before, and I think they may be my favorite company offering phone jobs from home because you can use your smartphone to make calls! Once you download the VOIQ App to your phone, you can view the different campaigns available, and choose one you want to work on.
All the campaign information for each call is provided on the app, including what to say and ask the customer. When you are done, you give feedback about the call using your phone as well.
VOIQ Agents earn $12 per hour from home or about $.30 minute per phone call.
Telcare hires people to work at home as Telephone Satisfaction Survey Agents. This phone job from home consists of calling customers who have purchased products or services recently, and asking them to participate in a phone survey about their overall satisfaction with their purchase.
The company prefers applicants to have some type of previous customer service experience for these jobs. If you are bilingual, that is a big plus as well.
Telcare pays $12 per hour.
These companies are good places to get started applying if you want a legitimate work at home phone job. Just remember that these jobs are not likely to replace a regular income, but offer more p/t work that can help you earn extra cash in your spare time.