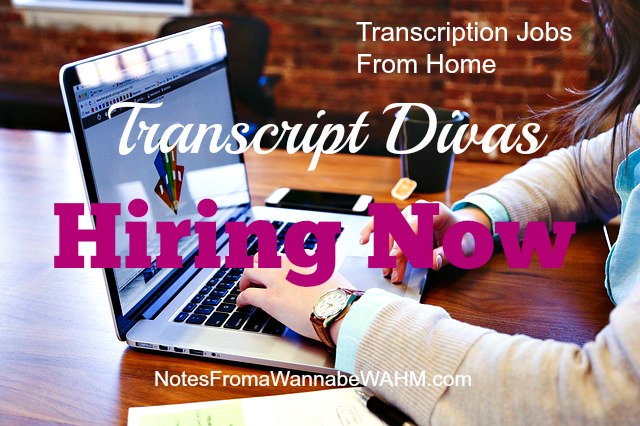 Transcript Divas is hiring right now for their work at home transcription jobs. Experienced transcribers have the best chance to be hired with this company. If you are new to transcription, look for companies who hire new transcribers who have little or no experience. Transcribe Me is a company that offers transcription jobs online for beginners.
5 Legitimate Phones Jobs You Can Apply For Today

Work From Home Taking Flower Orders
About Transcript Divas
This is a well-known company that has been around for a while now.  They pride themselves on having one of the fastest and most accurate transcription turn-around-times.
The biggest positive of working for Transcription Divas is transcribing work is usually plentiful. Fast accurate typists do well with this company.
Job Leads Updated Daily On the WAH Job Board
How Much Does Transcript Divas Pay?
Transcript Divas bases their hourly rates on the average rates for medical and general transcribers working as freelance independent contractors.( I have read that most transcribers will earn between $11 and $14 per hour, average. However, this may not be accurate currently.)
The company uses Payscale.com, a US bench-marking service, to determine their pay scale. You can look at the pay guidelines they follow here.
They will also take into consideration the deadline, the quality of the recording as well as the specialization of the content for different jobs.
Bottom line here is that Transcript Divas seems to do their best to make sure they are paying the average going rate for home-based transcribers.
About the Application Process
They provide an online application. On their website it states Transcript Divas receives 15-20 applications every day, and as such they respond only to applicants they believe have the qualities they are looking for.
But do not let that keep you from applying with them, however! If you have previous experience, type quickly with few errors and are able to meet strict deadlines, it is probably worth taking a few minutes to apply.
If you are interested, just click here to go to their website and get started!